Hiking Trails of Halifax
A town in the middle western sector

The town of Halifax and it's hiking trails lie in the middle western sector and is considered the heart of the Plymouth County.

Being in the more southern portion of the south shore and away from route 3, the town has a much more rural feel than many of the other towns of this area.
There are still many farms and cranberry bogs that other towns have given way to development, helping this town to keep it's original charm.


The major routes through the town are Route 58 running North to South, Route 106 running East to West.
Lesser routes are Route 36 heading North into Pembroke, and Route 105 heading South into Middleboro.


Monponsett Lake is a major water feature of the town, also called Twin Lakes as there are two portions,
a West Lake and East Lake divided by a strip of land referred to as White's Island.

Most of Burrage Pond Wildlife Area including part of Upper Burrage Pond and all of Lower Burrage Pond lie within Halifax.
Another major waterway is the meandering Winnetuxet River pictured here to the left.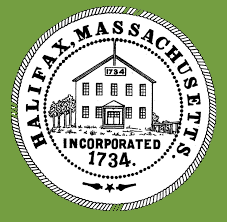 History of Halifax
Although the town was first settled in 1669 the Town of Halifax wasn't incorporated until July 4, 1734 after separating from Plympton. 
It was named to honor the Earl of Halifax in West Yorkshire, England.

The only town in the Commonwealth to have this day as their anniversary of incorporation, that day is twice as special!

Halifax is made from parts of the towns of Middleborough, Pembroke and Plympton.


Then in the 1800's land swapping began.
On February 20, 1824 a part of the town of Bridgewater was annexed to Halifax .


March 16, 1831, a part of the town of Plympton was annexed.


On April 11, 1857, a part of Halifax was annexed to East Bridgewater which set the boundary between the two towns.


On February 6, 1863 the boundaries between Halifax and Plympton were established, and a part of each town was annexed to the other.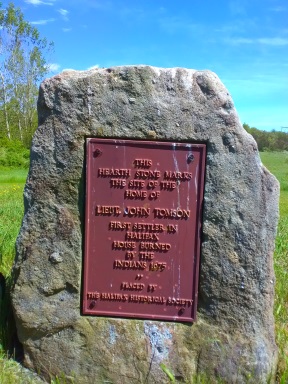 The above paragraphs mention major routes through town, a lesser route marked as Route 105 also named Thompson St has historic value.
This road is the location of one of the early settlers of Halifax, John and Mary Tomson. 

This house, a log cabin was burned down in the King Phillip's war by Native Americans.

If you travel down this street, there exists a small lawn with a plaque commemorating the site.

Sturtevant is another prominent name in the early history of Halifax. The first grist mill in town was said to be built by Samuel Sturtevant.

Other early industry were lumbering, a wool mill and agriculture including cranberry bogs.  Of which the later two still exist today.

An interesting endeavor of this town that never came to fruition was a plan to build a canal linking the North River and the Taunton River. This being part of a grander plan to build a canal between Buzzards Bay and the Massachusetts Bay.


Hiking Trails of Halifax: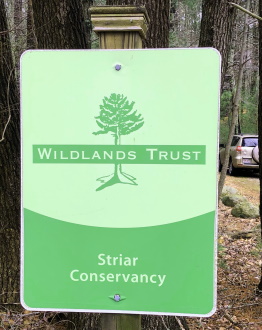 The beautiful hiking trails here are easy to hike with amazing view of part of the Winnetuxet River. Many species of birds use the grassland along this area to nest in the spring. Great viewing point without disrupting.
A hard to find less traveled area that abuts the Burrage Wildlife Management Area. Easy to hike scenic loop trail along Stump Brook and a tributary of it. Will not disappoint!

Halifax School Land
Halifax