South Shore Hiking Trails Blog



Catch up on all that is new at south shore hiking trails!
New trail descriptions, news and events.
Just click on the orange rss button to bring the updates to your favorite news source.
Eaton Pond Conservation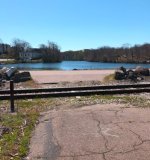 The Eaton Pond Conservation sitting on the Braintree/ Quincy line is a wonderful hiking area with a varied mix of history and assorted landscape.
Hiking Trails Blog