hiking trails of holbrook



The Wiggin Trail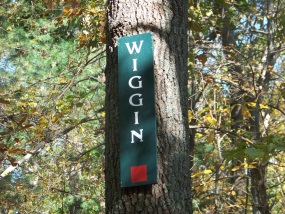 The hiking trails of holbrook's Wiggin Trail
are probably considered the main trail of
the Holbrook Town Forest.
It is located on Pine st at an entrance called
the Mann Entrance. This is located at 75 Pine st.


At this location there is what looks like the start of an old driveway here and is the only place at this entrance that looks like one could park here. Though most do not.The better parking is on Park Drive which is off Forest St. Forest st is just past the Mann entrance on Pine st.


At this entrance on Pine st.
the Boundary Trail starts here as well.
Both these trails follow a power line, but
then the two split off with the Wiggin Trail.
The Wiggin Trail leads into the forest and the Boundary Trail continuing along the power line.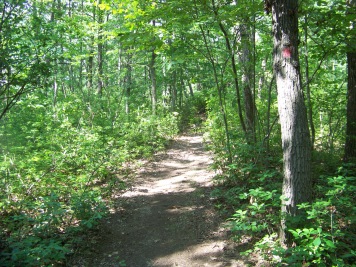 This trail is a decent size, approximately half a mile in length and runs across the forest almost directly from south to north.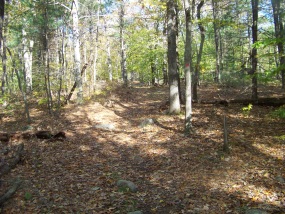 This hiking trail runs mostly dry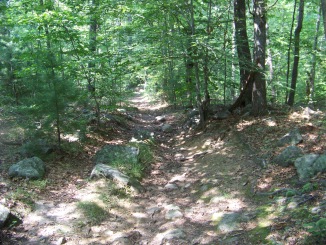 but does have some damp spots and is mostly flat till the end where there is a slight downward grade.
Like most of the trails in this forest it is littered with rocks so step with care.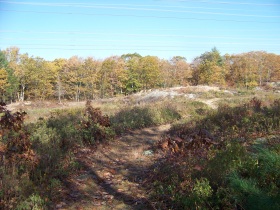 This main trail of the Holbrook Town Forest is marked by red squares and ends at the power lines that border Holbrook from Braintree.
Across the power lines lie the trails of the Cranberry Pond Reservation in Braintree.
Trails that intersect the Wiggin Trail are the Elfin Trail and the Long Trail. Both of these trails' junctions are on the right and are presently marred by blow downs.


This first intersection of the Long Trail will take you to the Sawyer Trail and further down from that to Estes Way. Just after Estes Way is a side access trail will take you to the Boundary trail.


Continuing down the trail from the two intersecting trails on the right, the Long trail intersects a second time from the left (this section leads to the Long Trail trail head).

From this second intersection the Long Trail runs with the Wiggin Trail for a short time and then the Long trail for a third time intersects again and then loops back into the forest.

The 2nd intersection of the Long Trail on the left also takes you to the Diman Trail.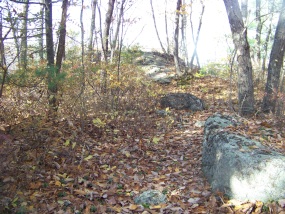 Most of the trails in the Holbrook Town Forest are full of rock formations and overlooks such as in this picture.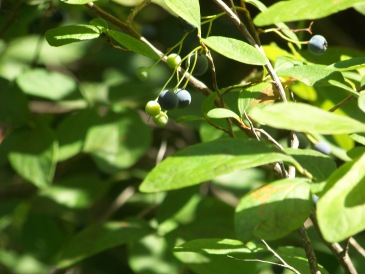 If you hike the length of the Wiggin trail, not that it is very long, in the summer your reward for doing so are the abundant blueberries.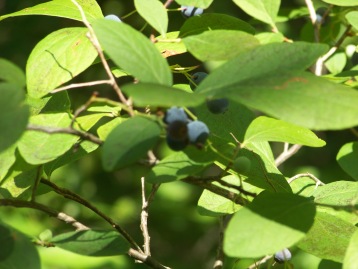 You may need a reward in the summer though, the trail might not be very long but you will need bug repellent.
Those bugs just might also be blueberry repellent.
Wiggin Trail