hiking trails of whitman


whitman town forest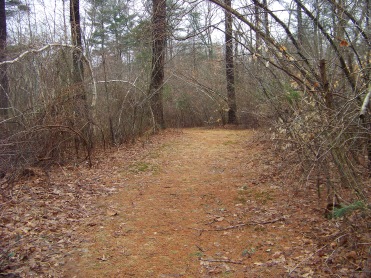 Whitman is a town of small acreage.
There are some conservation lands with hiking trails on them but many need attention and development.
The Whitman town forest is one of those places. There seem to be two entrances but using them one would feel as though they are trespassing on private property.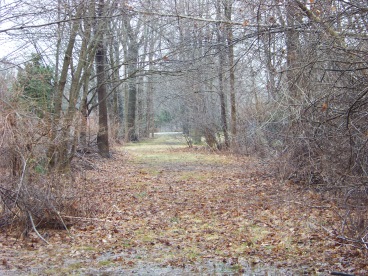 a look at the northern entrance to
the Whitman town forest from inside
The entrance I initially used is diagonally across from Jerome St near the Abington / Whitman town line on route 58. I parked at the end of Jerome, crossed the street and headed south (right).
At the red fire hydrant at the side of the street a road into the forest becomes noticeable.

I followed this down into the forest.
The houses neighboring this "road" have fencing along their property so one does know where their property line exists (basically).

The second southern entrance is closer to the rotary on Route 58.  To the left of the address 591 is an easement that leads down to the forest.  There is room for a car or two here.

At first, a look at the town forest seems to only have a road that goes in, loop around, connecting the two entrances.
If looking closely, though, a trail leads into the forest  at the inside part of the loop.

It is obscured by many fallen trees. My first visit was on a cold late winter day. Snow fell the day before and there were animal tracks in the snow.  Someone more familiar with the forest led the way for me!!

This town forest is a small tract of land between two neighborhoods so one is never far from help here.

I was quite surprised by how far this narrow hiking trail actually went. My second trip I measured 1/3 mile.  There were a few difficult spots as it is not a maintained or regularly used area.
Several parts to this hiking trail faded away or passed over large wet areas that had frozen over only slightly the night before my first trip.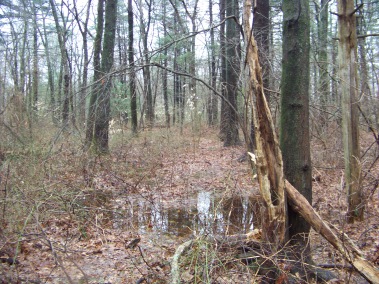 The second trip, these areas proved
a bit more difficult to pass over!

The trail came out to the banks of a small flowing stream, but not before becoming almost impassible by thorns and faded trail.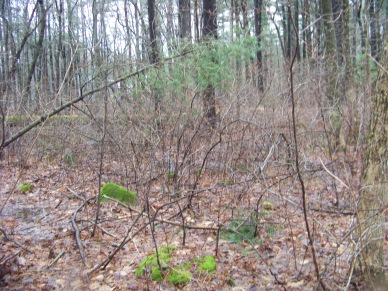 Lost trail and thick thorns make the
last part of the trail to the stream difficult

This stream was wide enough for me to decide I did not want to cross and continue on this trail. There was a makeshift bridge that was well iced over.
On a single digit day I didn't feel like taking a possible swim.
My second trip further into spring I was more adventurous.
I tried the makeshift bridge that has become partially submerged. 
Good thing I had waterproof boots! Not the best place to cross.
To the left of this I noticed a better crossing.

Still a bit rough but the stream was shallow here and rocks proved better for crossing!
On the other side again, very faint trails lead out to what appears to be a "roadway" that was never developed as part of one of the nearby neighborhoods. 
One end of the roadway came behind a house, the other end came to another portion of the stream I had previously crossed.
It appeared that if across the stream were cleared it could possibly make a nice entrance for that neighborhood to access this town forest.

Across this "roadway" more faint trails mostly leading to a posted no trespassing area.

It appears on maps that this property could back up to the beech hill conservation in Rockland and possibly the Ewell trail there.
That exploration is for another day!!
Whitman Town Forest