hiking trails of holbrook



The sawyer trail






The Sawyer Trail is one of the hiking trails in the Holbrook town forest that can be accessed by what is considered the latter portion of the Long trail that is on the early portion of the Wiggins trail.
Sounds confusing but a map should clear that up! A map of holbrook town forest is located by way of a link from my page about the forest.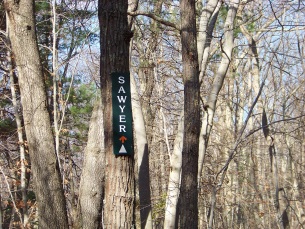 This hiking trail can also be accessed by Estes Way.

It is marked by white triangles.

Estes Way is also found on the Long trail.

To find the Sawyer trail start you will need to hike to the end of Estes Way.



It appears that part of the trail that is called the Elfin Trail may also contains a part of the Sawyer Trail. This would actually be a third access point of the Sawyer trail (following the Elfin trail).

An older sign calls part of the trail at Elfin Pond the Madelyn Sawyer Trail at turtle head rock.
Another possibility is that this trail has been changed and moved.
Much confusing signage is in this area. There are also signs with blackened out portions on the sign and several trail blazes that have been blackened out.



The Sawyer trail from the Estes Way junction heads into the woods and comes close to Elfin Pond but does not go directly to it.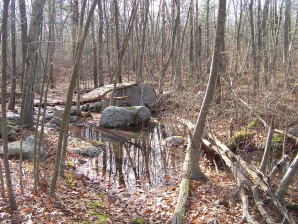 There are some areas of considerable water crossing that one must choose a path for themselves.


Though a bit challenging, it does help to make the trail interesting.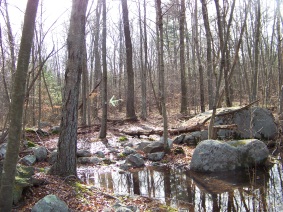 Here if you look closely at the picture
you will see an arrow pointing to the
white triangle blaze of the sawyer trail.


This blaze is on a tree in the middle of the water!



Rocks have been placed in the water to ease the crossing here, but a board walk style bridge would be better.


There has been some trail work done to make crossing easier, but much more could be done.


After you have managed this water crossing the Sawyer trail continues for some distance.


There will be a bit of a hill to climb (only a slight one) and more blow downs to manage further down this trail.


It makes a nice loop with the Long trail and can add length to a hike if that is what one wishes while hiking these trails.



From this junction with the Long trail if you go left you will come to the upper portion of the Wiggins trail.



Going right will take you back to the portion of the Long trail that will bring you past Estes Way, the access path for the Boundary trail and thru Moccasin Valley to the lower portion of the Wiggins trail near the power lines.




Sawyer Trail