hiking trails of hingham 
      

Mckenna Marsh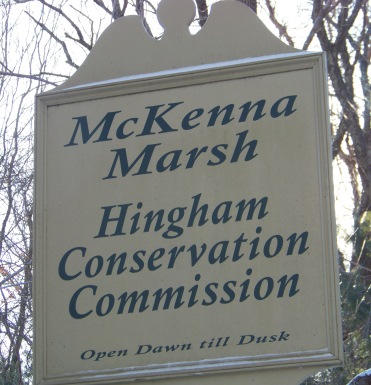 If you are in Hingham and looking for hiking trails that will give a bit more solitude than the rest that Hingham has to offer, Mckenna Marsh just might be what you are looking for!

Though this area is not far from route 228, I found it to be quite peaceful and lacking those automobile sounds in the background one usually hears!


Most of the hiking trail on
the first part of the journey
is path sized and easy walking.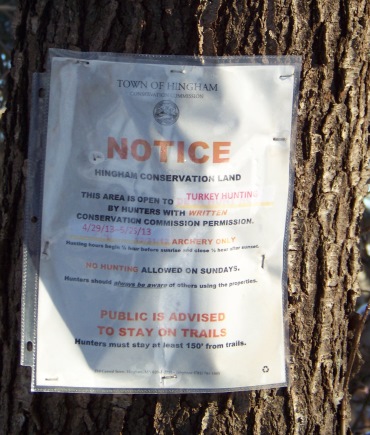 Interestingly, the conservation land
does allow hunting but written
permission must be obtained!

This particular sign mentions turkey hunting which is usually in late April into early May.
At less than 1/4 mile you
will find a small bridge
over a stream leading
out of the marsh.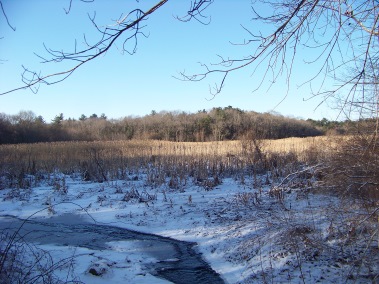 Good views of the marsh
open up here

and even on a cold winter's
day many birds were out
singing their happy
"go away winter" songs.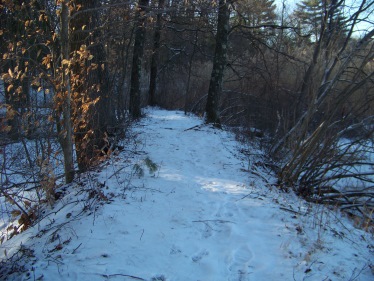 Shortly after this, the trail leads away and into the forest.

At about another 1/4 mile the trail comes out to a utility road that while walking down one will find more roads leading off to other utility building sites.
This utility road can be found on Grove St in Norwell.  On a spring hike I found the gate to the area open, but a sign says no trespassing?? 
Even walking this dirt road alone would prove a pleasant hiking experience.

I did not find any trail markings here on or along this road. My only guide was instinct and other hikers tracks in the snow. 
There are some perks to winter hiking!

After following down the next side road and scrubbing around in the woods, I found that I had only followed another fellow explorer's tracks into the woods.
Most likely we both were following an animal trail that faded off.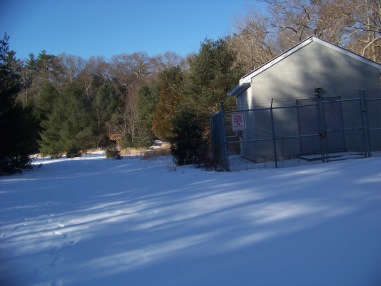 I then followed back out to the original utility road and continued on, finding another road on the right. This time I did find the trail that continued on from here.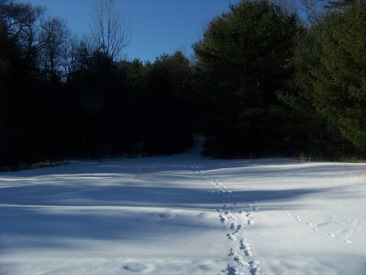 Of course the tracks
in the snow helped
make the way as well!



second portion of hiking trail around mckenna marsh


This second road in this winter weather was not plowed.  The main utility road and first road on the right were plowed.
From a distance there looked to be many trails leading out behind the building of this second unplowed road. One though, was quite obvious as it became cart path sized. 
Later, hiking this area in the spring, I found the many trails leading around this second road are made by dirt bikes. Probably fun for mountain bikes as well. There were little moguls in the sand.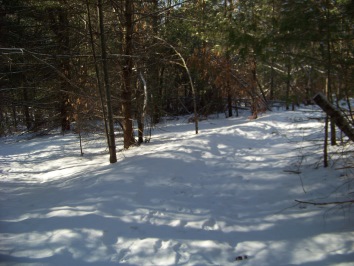 The forest on this side is much
like the George Washington Forest,
down the street north of this property.
Many tall pines and less under brush.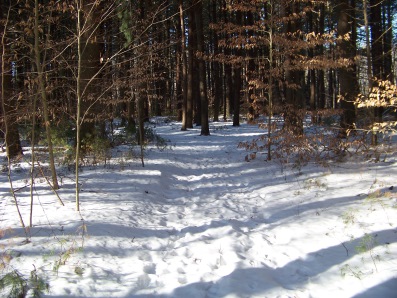 Some trail markings
start here with red arrows.
While red arrows mark the main trail around the marsh, there are many smaller side hiking trails that lead off. Some lead to private property. Shortly up this second portion of the hiking trail you will come upon a fork. Both trails are cart path sized. The main trail around goes to the right. The trail leading to the left is another access trail and leads to an easement along private property on Grove St.

Another sign about hunting will be found on this side of the property, this time mentioning deer hunting and the related season.
Though along the way you will find those many side trails and some obviously reconnect back to the main trail marked by the red arrows, eventually there will be a 3 way split.

The way to continue on at this point is marked by the constant red arrow. Here the trail once again takes a right.

The other two destinations
are private property as this
sign brings to any visitors attention!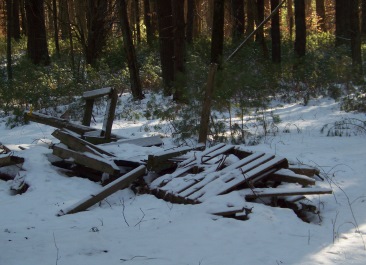 Further down the trail I came upon this sight.

Even in Hingham the scourge of dumping
on a conservation land exits!! 
Though on closer observation, some of the material may provide some nice re-use possibility. Creative repurpose designers take note!!
All wood, no plastic tarps or tires!!  At least it's a clean dumping site!

Or possibly a trail building material pile?
Except for this pile, I found this area to be close to pristine! Even the random campfire sites were not cluttered with ANY trash! Nice to see!
The trail finally comes
around the marsh on the
opposite far end.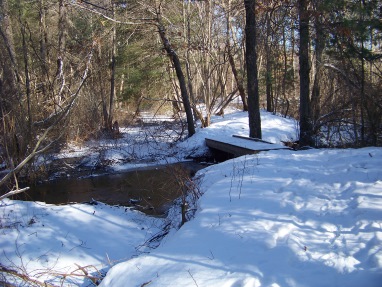 another small bridge
and stream to cross
this time the stream leads
into the marsh.
Through some more pleasant woods and out to a bit of a meadow.   

Again a nice place for bird watching!


This little meadow is a wonderful way to end a hike here at Mckenna Marsh!
McKenna Marsh