hiking trails of holbrook



Holbrook Town Forest





The holbrook town forest and it's approximately 6-7 miles of hiking trails are situated on 115 acre parcel of land. The park was created in 1955 on undeveloped land. This land was either donated or in some cases taken by eminent domain.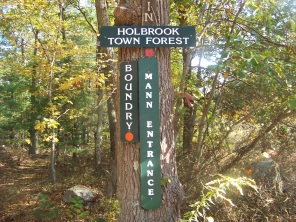 The hiking trails are well marked with the two main trails being the easiest to follow. Some of the lesser trails have had trees blown down from the storms of last few years blocking  portions of the trails.


Some of the trails that reach the outer edges of the park such as the Boundary trail got very faint so the markings were well needed. My exploration of the town forest started in late fall when all the leaves are down and this can pose a problem as there were only a few markings and lightly worn paths are covered by leaves.


One thing that strikes anyone visiting this special place is that although it is a park with trails, it has a very rustic primitive almost untouched feel with much to offer about ecology of the area.
fall brings out the rock structures

Summer softens the forest and adds tranquility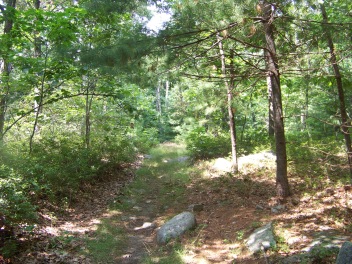 features of holbrook town forest


The holbrook town forest is home to many glacial rock outcroppings with one prominent area being called Moccasin valley.


This area is located on the Long trail shortly after its intersection with the Wiggins trail. On the map of the town forest this area is referred to as the garden of the gods. It certainly gives the feeling that something special occurred there as the trail opens wide upon entering and there are several towering boulders.


Another highlight of the holbrook
town forest is the vernal pond on
Elfin trail.
The definition of what a vernal
pond is can be found on this
page elfin pond trail page .


The importance of this is, that vernal ponds are primarily breeding grounds for certain species.
This may be one of the reasons that the map of the holbrook town forest calls this area "a protected area of critical environmental concern".
Along with that title it also calls this area "a priority habitat for endangered species".


While you are in the area exploring elfin pond you will come upon Turtle Rock.
It doesn't take much of a stretch of the imagination to see the turtle with it's head poking out of it's shell!

What I like about these trails is that they back up to the Cranberry Pond Reservation in Braintree just across the power lines.
With the addition of these trails it can make for a full day of hiking if wanted.
This area is a watershed and again also included as an area of critical environmental concern. So please stay on the hiking trails!!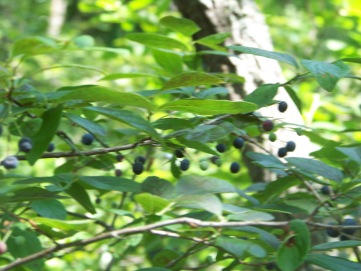 Being part of a watershed may at times have it's difficulties but it also has it's perks.
There is a considerable amount of blueberries that grow wildly in this forest.
Any one who knows about wild blueberries will also know this flower.
It's fragrance is strong, also likes the moist soil that encourages blueberries to grow.
It is called Pepper Bush and if you smell it's aroma while you are hiking many times ripe blueberries are not far!
The Holbrook Town Forest is filled with it's sweet fragrance in July and August.
how to get there


The park's two main hiking trails are accessed on Pine st. Pine street is just a short distance from Rt 37 in Holbrook near the Braintree line.

Turning on to John st and following to the end. Turn right and the Long trail will be to the left shortly. The Wiggins/ Boundary trails will enter further down on Pine st. They are both quite easy to find once on Pine st.


Just before the Wiggins trail's Mann entrance is Forest st. Almost immediately you will find a short side street named Park Drive. To the end of this street is parking for 2-3 cars.


getting around in the park


All trails in the forest are side trails to the two main trails. Hiking in this forest is mostly an easy walk. There are quite a few areas that even after several dry days plenty of water remains. There are several small streams that cross the trails making some areas a bit difficult to navigate.


In fall the forest can look like one big room and the trail markings are needed to keep you on track. In the spring and summer the foliage will properly define a trail and markings are not as important. Still certainly needed though!


Another concern hiking here is that some of the trails can be littered with rocks. Most times this may not be a problem, but in the fall when the leaves are covering them it can become a bit annoying even hazardous at times.

other important information


There are many forms of recreation open to those who wish to visit the holbrook town forest. This park though, is limited to non motorized forms of recreation. There is a $250.00 fine for violation of this.


My form of travel was hiking yet it struck me that this would be a wonderful place to either snow shoe or cross country ski.


While dogs are certainly welcome in the park, their owners are expected to leash them and keep them restrained if necessary. Scooping after your dog is expected in every park.


For more information about the holbrook town forest follow this link. Have patience while on this link, it's slow.

Holbrook Town Forest