hiking trails pembroke


Canoe Club Preserve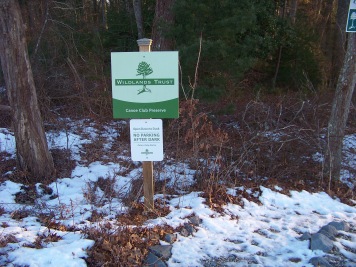 If you are in Pembroke looking for hiking trails,
the Canoe Club Preserve is a sweet little trail to hike after a meal out,
or anytime when you want to squeeze in some quick exercise.
The trail in the heart of the shopping area, is located in the plaza called Pembroke Pointe.

This is at the intersection of route 139 and route 53.
If you have come in to the area by route 3 at exit 12 you will take route 139 west to the fourth set of lights where it intersects with route 53.
Pembroke Pointe plaza is straight across at these lights.

There is plenty of parking in this parking lot but there are several spaces trail side.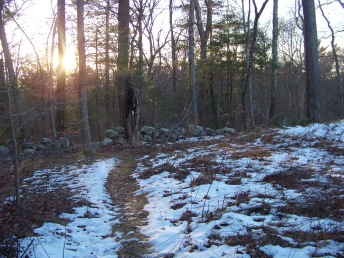 The trail follows down behind a chain link fence.
The signage for the property is a bit overgrown, so you may find
yourself searching a bit for the trail start.

You will be going downhill and a wall will form on your right.
At the bottom there is a break in a bit of a stone wall.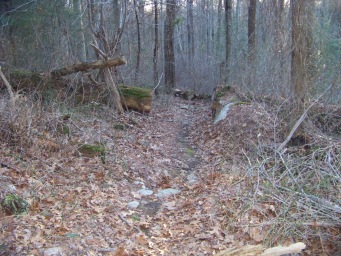 This trail makes a circuit through the woods.
Following to the left the trail continues downward in an easy manner.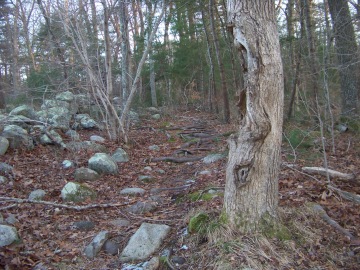 Soon the trail will become littered with roots and rocks, so careful stepping is needed.
At times this side of the circuit will have a bit of wet area to travel through.

As you are hiking down on this trail the North River can be seen in the distance. 
You will also be traveling behind several private properties.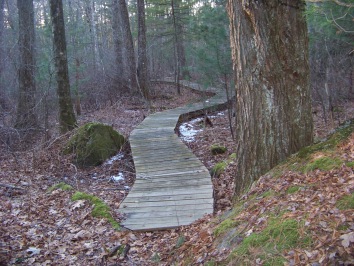 At approximately one tenth of a mile a boardwalk appears.
Most of this trail is comprised of this board walk which then makes walking very easy and stable.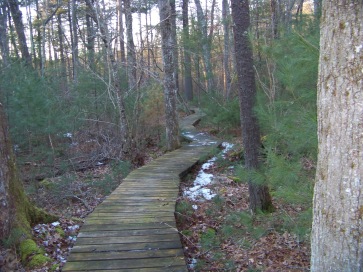 My first walk was in January so there were bits of snow and ice on this boardwalk.
This was exceptionally icy and slippery on the material making up this boardwalk.
There was not much ice left though, as it had melted so it was not a problem. 
Something to be aware of though if you venture here in the winter.

There was evidence of much wild life traffic on this boardwalk.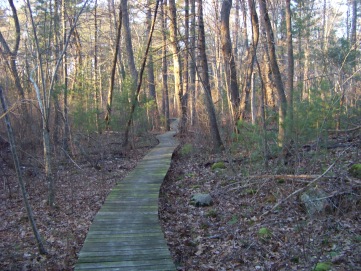 In the warmer months it must be good spot for wild life sightings. 
At 1/4 mile the hiking trail passes over a small stream.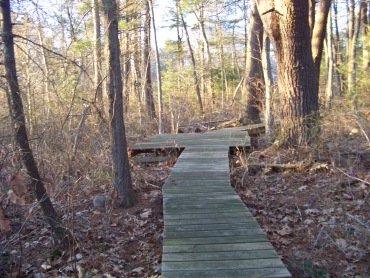 This trail winds through the forest and at one point a bit of  a platform appears.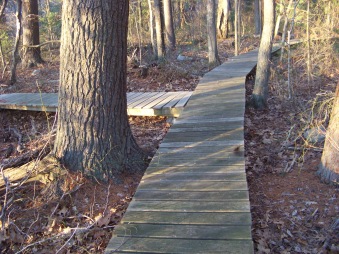 Shortly after this platform at 1/3 mile another trail leads off to the left.
The trail to the left is actually a private trail of the canoe club lane homes.
I previously suggested that hiking this trail was allowed. I have been advised
that this is not true.

There is a please no trespassing sign here.

Please respect the wishes of these property owners!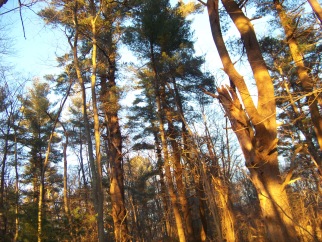 Back in the preserve the trail continues to the left.
Winding through the forest again.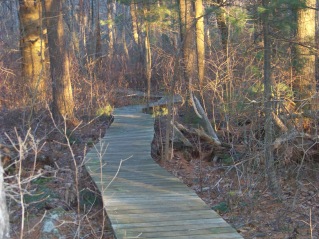 At  4/10ths of a mile,
the hiking trail starts to go uphill gently, but you will feel it.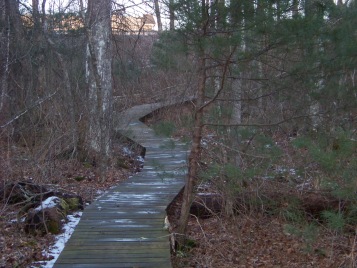 The boardwalk soon ends and a climb up to the trail head is what is left of this hiking trail.
Much like the beginning, a rock and root filled end to this portion of the trail.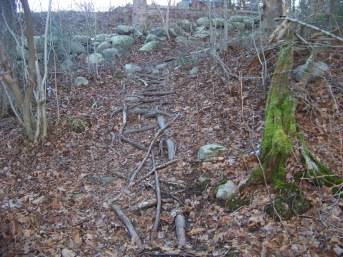 In total the trail is 1/2 mile.  I chose to walk it twice to give me a full mile of walking. 
This hiking trail is considered part of the Herring Brook Valley.
It is a Wild Land Trust property that was donated by the developer of the Canoe Club Properties, Ron Wilson.

The page on their site for this property says it takes 45 minutes to walk this trail.
I would claim 15-20 minutes unless you are bird watching or taking notes on the flora and fauna of the area.

Canoe club