hiking trails of weymouth


Bradford Torrey Bird Sanctuary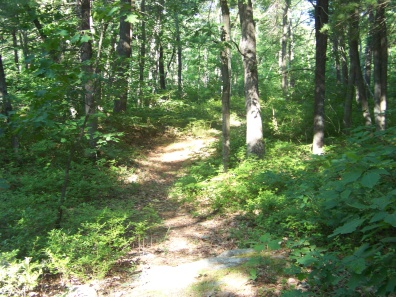 The hiking trails at the Bradford Torrey Bird Sanctuary are located in South Weymouth.

Not far from one of it's borders is Route 18 though the sanctuary is not accessible from here.
Other borders are Park Ave, Pleasant St. and many of South Weymouth's larger apartment communities making this slice of secluded forest close to some very busy areas of this town.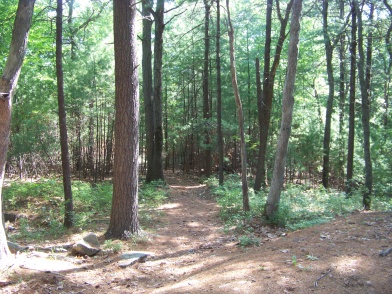 Yet once inside the sanctuary's borders it is a strikingly serene place filled with the chatter of birds and scampering wildlife.
On my visits here twice I disturbed deer browsing the bushes!
Not one human visitor have I
found yet unlike many other areas
of conservation in Weymouth,
though there was plenty of evidence
of nightly human visitation!
The sanctuary being filled with birds is testament to the man the property was named after. It is almost as if they know this place was set aside for them.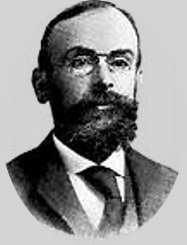 Bradford Torrey 1843-1912 grew up in and graduated from Weymouth. He was a writer specializing in outdoors and travel. He is greatly responsible for making the "nature ramble" popular as well as the past time of bird watching.
Nature rambles are a combination of walking and talking about nature. It is suggested but never documented that Torrey's childhood days in then rural Weymouth were filled with this activity. He was not just a casual birdwatcher but an ornithologist, one who studies birds intently subsequently writing many papers on the subject.
He wrote for several ornithological publications and wrote a book called "Birds in the Bush". Other books he wrote are A Rambler's Lease (1889), The Foot-Path Way (1892), A Florida Sketch-Book (1894), Spring Notes from Tennessee (1896), Footing it in Franconia (1901), Friends on the Shelf (1906) and Field-Days in California (1913) posthumously published.
Though some of these titles suggest someone who may have liked the natural world as promoted here in south shore hiking trails, Torrey did not like travel in the forest during his writing career. He preferred the urban setting and liked to help those who lived in the city to "see" nature even in this setting. So maybe the crazy suburbia right outside the sanctuary isn't so crazy after all!


Hiking trails at the Bradford Torrey Bird Sanctuary
One problem with this property is that there is no formal entrance.  There are however a couple of places I found with a bit of parking.

My first visit here, I thought this was a small area with a few hiking trails, not much to write about. My initial exploration of the property I found myself on trails ending at private property. Though there were several trails that still needed to be explored.
Snap judgement as my next visit established! Taking the "other trail" at an intersection from my first exploration brought me to another portion of the forest that seemed to endlessly continue with side trails leading off to places that I needed more days than I had in supply, to continue exploring this grand property!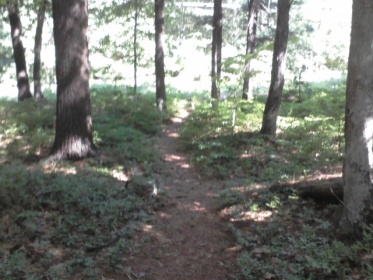 What I found is that Bradford Torrey Bird Sanctuary is a place that one could spend a considerable amount of time at. The "other trail" took me to more rugged terrain. Lots of rocky outcropping,  cart path wide trails that mountain bike enthusiasts would most likely well appreciate and more intimate trails leading through grassy glens and thicker forest.

My initial point of entry was from the rear of South Weymouth's high school. On the road that leads around the back of the school there are a few parking spaces where trails to the property emerge. In the fall winter and early spring these trails are easily seen. However once summer comes the foliage that springs up blockades these trails a bit.

Once past this thin blockade and into the forest at this location one will find many trails crisscrossing the area.

 In the lower parking area of the school across from the child's playground I found a grassy hiking trail that should be made the official entrance (in my opinion). This needs a bit of work though.

The point of entry behind the school takes you on a circuit trail of the area just behind the school.

On my third tour of the property I found a trail inside of the sanctuary that loops back almost to this area behind the school but the trails that connect the two areas to complete a loop are faded.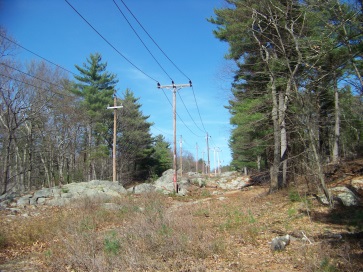 If you want to get into the main portion of the property either take the grassy trail from the lower parking area or if directly behind the school take the most defined trail that leads back but mostly to the left. This will take you out to a utility line. If you look at google maps the area defined as the Bradford Torrey Bird Sanctuary does not begin til after you cross this utility line.

Out on the utility line there are trails leading in both directions. While utility lines on the south shore  many times contain pretty interesting terrain and in this case take you directly to other parts of this property, I find it more pleasant to continue on the main trail in the forested part of the property.

This one continues directly across the utility line and back into the forest once again where it descends moderately.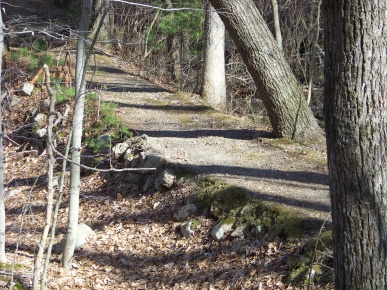 It passes by another side trail here to the right. This side trail is the one that will loop back toward the area behind the school. It passes through some interesting terrain as well.

 Once past this side trail the main hiking trail into the area soon becomes a raised cart path that leads to and over the only source of flowing regular water I could find on the property. This unnamed brook is a tributary of Old Swamp River that flows into Whitmans Pond.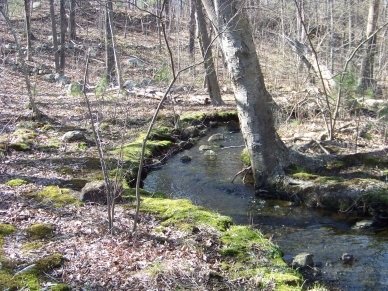 This brook is the most referenced by anyone supplying information on this property online. Yet there is so much more to this conservation area.

On a google map the conservation property is bordered by this stream and looks to be much smaller than what I found here. Much of the hiking trails that exist here were here long before there was a conservation and many of the trails seem to pass over possible privately held land. Though the open space plan for Weymouth mentions several tracts of conservation plots that abut the bird sanctuary. The town also speaks of fuzzy boundary lines here. The most likely reason for no formal entrance.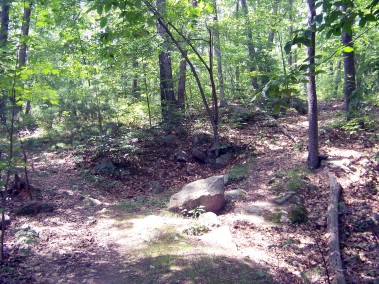 Trail splits in two at the rock.

The main hiking trail leads over this stream by way of stepping stones and again on raised cart path to an intersection of two uphill paths.


Going to the right at this intersection and right again at the top of the hill will bring you through interesting wooded way that leads past some rock outcroppings.
This side though mostly leads to either private back yards or an apartment complex parking lot. NO FUN.
It did seem to go by what appeared to be a vernal pond.

Not that vernal ponds are fun, but they are important spots of wild species habitat that the state likes to identify and at times certify and protect.


At the top of this hill a trail goes to the left and connects with the trail going left below at the intersection.
Yet another trail continues straight
away from the top of the intersection
and leads to the grassy glen
area of the sanctuary.


 Following the trail leading left brings you to the bulk of the property, it soon follows a stone wall and shortly after passes through it. The hiking trail then descends a bit and follows through an area that looks to be flooded at other times of the year.
It continues here extremely rocky and covered over heavily by fallen leaves. There is a bit of a raised trail to the left as an alternate to this rough patch.

Shortly further down the trail the utility line can be seen and a narrow side trail leads out to it. The main trail continues and once again becomes rocky eventually also leading out to the utility line, but before doing so a faint trail leads off to the right.

The main hiking trail leads down the utility line for a short way and then proceeds to split into many hiking possibilities. A major trail junction!  If continuing straight it will once again lead to private property. Before heading to this private property yet another trail leads to the right.

There a trail that leads steeply downhill to the left at this main intersection and into more forest. Upon closer observation this area looks to be a biker's haven.  Ruts in the trails prove that many in the area use it as such. It is filled with steep hills curvy trails and sits a bit to the side of where the other hiking trails exist.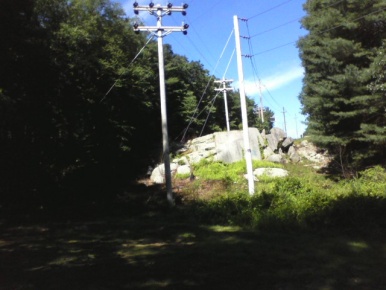 On the utility line there exists a large boulder-ed hill with a narrow trail up the side of it. Looked very interesting but on this day I followed the trail that led straight which leads to private property, but taking the side trail to the right.

Found this lead to a couple of areas where some come at night for campfires. I'm sure it was wonderful at one point but now so much broken glass exists that coming here in the dark would prove to be somewhat dangerous.

Another area some had enjoyed was not as messy and some artistic work had been done.

My continued wandering also discovered homemade tree stands which is another feature I regularly discover in many of the conservation areas here on the south shore.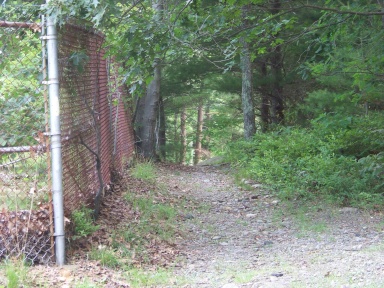 One of the purposes of this particular visit was to find any other possible entry points. In fact I did that day!  At the top of Lockewoods Dr. (I say top as it runs up a bit of a steep hill) is a gate leading to a water tower.
To the left of this gate is a bit of an area for one car to park. A second car could park here but would need to know the owner of the first car as it would block that vehicle in,.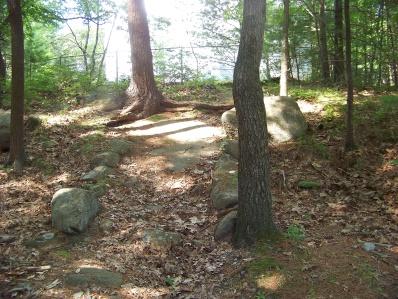 past the gate,
to the trail past the water tower,
a stone lined trail leads
you into the sanctuary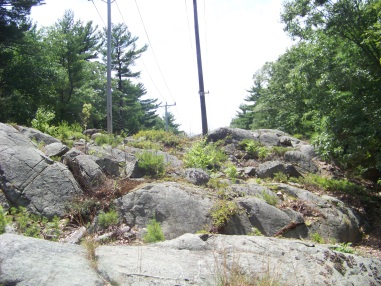 Other features of this part of the forest are MANY more rocky outcroppings leading me to believe this is a wonderful place to take a dog that likes to climb and needs to expend it's energy.

Like many conservation areas on the south shore, I found raspberry & blueberry bushes and grape vines.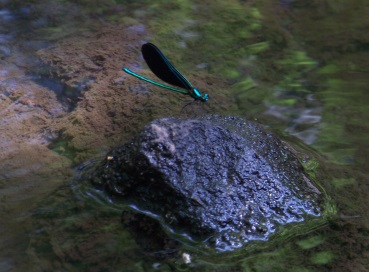 dozens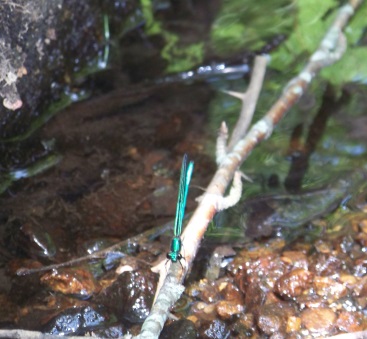 of black winged
green bodied
damselfly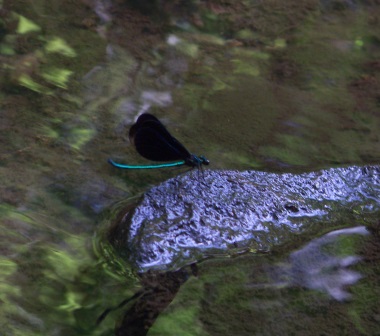 playing at
the brook
Bradford Torry Bird Sanctuary